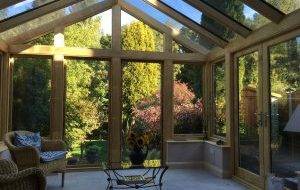 As living and working space evolve bespoke joinery is becoming increasingly high in demand, ensuring the woodwork is a good fit for the space.
It's about maximising space in the rooms as furniture and storage items can be manufactured to fit in a specific area.
Design is very important for bespoke joinery as it gives the customer a firsthand opportunity to mould their items and a chance to visualise how the woodwork will fit into the living or work space.
This can also add value to a property as customised woodwork brings something unique to rooms and can become a unique selling point when looking to sell or rent out a property.
Bespoke joinery adds value
At a time when it's getting harder to get onto the property market, purchasing a pre-owned property with bespoke joinery is certainly an appealing option.
We have also found bespoke joinery extremely useful for period properties as we can match your windows and other external features fitting comfortably with the style of the home.
It's not just smaller projects too as we have plenty of experience on extensions, conservatories, orangeries, staircases and bespoke country kitchens.
Knock on Wood
At Brinard Joinery we pride ourselves on sharing our 30 years of experience in the tailored timber industry and our unrivalled attention to detail to ensure our customers always go home happy.
Bespoke joinery requires an eye for detail, passion and patience that our skilled team of artisan craftsmen will make your timber dreams come true.
Get in touch today to find out how we can help you improve your living or work space with bespoke joinery or come and visit our stunning showroom and see a snippet of our portfolio in the flesh.
We supply joinery throughout the country, but you can contact us to find out more information on specific services in your areas.