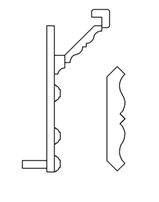 (1540) Lantern Facia
Product code: 1540
400mm DEEP LANTERN FACIA made from tricoya for stability with accoya moulding sent in lenght for site cutting.
Supplied as long as possible although joints may be needed on long runs.
Please add the total meterage you require in the qyt box
---
Simply complete the form below and add a product to enquiry, you can then submit your enquiry in the 'My Enquiry' section of our site.
Add to enquiry