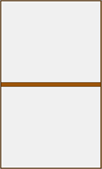 (1560) Appeture split into 2 accoya stick on bar set
Product code: 1560
Stick on bars comprise of a inside bar bonded to the frame and an outside bar made up into a complete glazing bead cassette which can be bonded to the glass.
No need for any marking out!
No more bars falling off!
---
Simply complete the form below and add a product to enquiry, you can then submit your enquiry in the 'My Enquiry' section of our site.
Quantity
Requirements
Max Width: 2000
Max Height: 2000
Add to enquiry