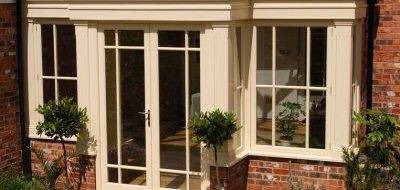 When it comes to extending your property, wooden conservatories are an excellent choice for many homes. Built from expertly crafted frames of premium timber, wooden conservatories can be designed and decorated in a variety of ways. Whether you're looking for a space to suit your lifestyle or to mach the aesthetics of your home.
When it comes to wooden conservatories, many people aren't aware of the different features and layouts available. So, we're going to give you a run down of some of the different designs out there. So you can make an informed choice when it comes to your home renovation.
The Edwardian Conservatory
If you are inspired by the Edwardian era, wooden conservatories are a strong choice that maximises floor space. This is perfect if you spend a lot of time entertaining, or have plenty of furniture on display. Rectangular in shape and boasting a room brightening pitched roof, wooden conservatories in this style are a traditional addition to your house that can easily be modernised inside.
The Regency Conservatory
For a striking aesthetic that really packs a punch, wooden conservatories inspired by the Regency era are a great choice. In a sunburst design, the rectangular layout is geared towards making the most of both space and light. Ideal if you're on the hunt for a bright and breezy conservatory that's easily customised.
The Lean-To Conservatory
Simple wooden conservatories that are made to last are a popular choice. And the lean-to design falls firmly into this category. These functional and attractive extensions are made to last and blend into most homes with ease. Not only that, they offer excellent value for money.
The Victorian Conservatory
Influenced heavily by the Victorian era, these wooden conservatories are perfect for those that like to sit and admire their garden. Large bay windows afford panoramic views of your outdoor space, while decorative design features such as finials and decorative glass offer a grandiose finishing touch. This is a popular choice that looks simply stunning in timber as an extension to your property.
Talk to us about wooden conservatories today!
Wooden conservatories are a fantastic way to revamp your home while creating extra space that's usable all year round. At Brinard Joinery, we are passionate about bespoke joinery products, so if you're considering an extension of your home why not contact a member of our expert team today and see how we can help?