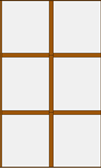 For decades, the master craftsmen here at Brinard have been designing and creating stunning bespoke external doors in Sheffield. Using only the highest quality materials and years of experience, we are experts in providing the perfect external doors in Sheffield for properties of all kinds.
Are You Looking for External Doors in Sheffield?
If you've been looking for external doors in Sheffield and the surrounding areas, and haven't had much luck, our bespoke joinery might be the perfect solution for you! We use the attractive and highly durable Accoya wood when creating external doors in Sheffield, as it has a range of great benefits. For example, Accoya wood is a very stable and sustainable material.
Due to the acetylation process the timber undergoes, swelling and shrinkage of your external doors in Sheffield is reduced by at least 57%. This means that your external doors will open and close effortlessly all year round. In turn, this reduces your maintenance costs, saving you money in the long term.
As well as this, Accoya is second to none for durability. Lasting at least an incredible 50 years, Accoya is even tougher than teak, and it virtually rot-proof. All these characteristics mean that any coating you apply to your external doors in Sheffield can last up to twice as long, and if you do decide to recoat the doors, preparation time is reduced due to the high quality surface.
Contact Us for Gorgeous Bespoke External Doors in Sheffield
If you believe you could benefit from our Accoya external doors in Sheffield, then please don't hesitate to get in touch with us. We're always happy to answer any questions you may have, offer further advice and information, and discuss your requirements.
We know that choosing new external doors can be a daunting decision, so why not take a look at our gallery for ideas and inspiration, or pop into our showroom in the Midlands for a visit!