A well designed and crafted  feature external wooden door can define the character of a property. We have the knowledge, the experience and the skill to produce doors of the highest standard and set your property apart. Because of the flexibility in design that is only possible in timber doors, the variety of styles is only limited by physical, production and imagination constraints. We can copy any traditional external wooden door style to suit traditional or contemporary glazing and fittings, to ensure that your door blends seamlessly with the look of your home or property.
Our experienced craftsmen use a combination of traditional skills with modern technology to produce the finest quality internal and external doors. Our experience with a wide range of materials and styles has provided us with a varied and versatile product range.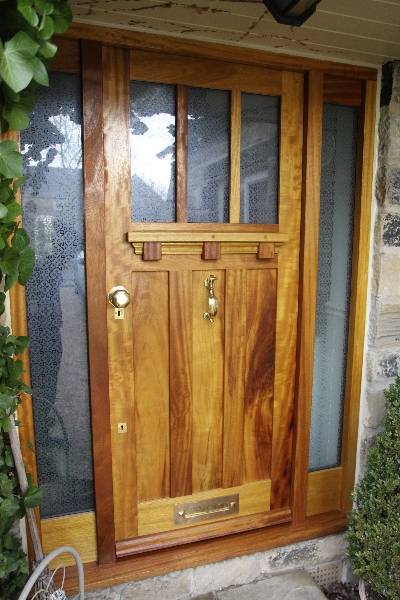 Accoya Doors:
Due to its unrivalled stability and longevity, we believe that Accoya is the ideal material for external wooden doors in any situation. High performance and low maintenance it is grown to be extremely strong and durable, whilst retaining a beautiful wood finish. By customer preference, most of our door production is now supplied factory pre-hung in the frame, with the customer's choice of locking mechanism and furniture pre-fitted, and fully finished to reduce site times.
Get in touch to find out more about our doors!
Why not get in touch to find out more about our extensive range of doors. We have a dedicated team who are on hand to help you in any way they can. Alternatively, browse through our gallery of doors from the comfort of your own home, to see previous doors that we have supplied throughout Chesterfield, Derbyshire, Leicestershire, Matlock, Nottingham and Sheffield. Doors Gallery
Door types frequently supplied include:
Glazed doors
These external doors are a stylish addition to any home and also a practical one. The glazing allows light to pass through while also being thick enough to not let heat escape. The glazing can be patterned or plain and clear or frosted, the design of these wooden doors is totally up to you.
Panelled doors
Perhaps the most popular of external wooden doors, a panelled door are attractive, durable and very secure. They can be made with a range of bespoke designs tailor made for your home and require the minimum amount of maintenance. Accoya is also fast becoming the number one choice of material thanks to its strength, style and versatility.
Boarded doors
Boarded doors are usually reserved for side entrances or garage doors but the rise in bespoke joinery means we are able to create unique designs perfect for the home. The integrity of the door comes from the ledge and brace elements creating a solid frame where the groove and tongue boarding is applied to either side for a seamless appearance.
Sliding Patio doors
With sliding patio doors, you have the perfect way to enjoy both inside and outside of your home. Our doors are made for regular use and their strength, stability, performance and style is unrivalled. With a strong yet slim design, patio doors allows your home to benefit from maximum natural light and enjoy the view.
Bi-folding doors
A variation on the traditional patio doors, the bi-folding doors allows for increased flexibility thanks to their intuitive design. They give the homeowner more control over how much light or fresh air they want to allow in. These external doors are available in a wide range of designs and materials totally unique to your property.
When it comes to outstanding durability, nothing matches up to the unrivalled strength of Accoya doors. Made via a chemical process known as acetylation, Accoya doors are guaranteed to last at least 50 years and is also taken from FSC approved sustainable sources.