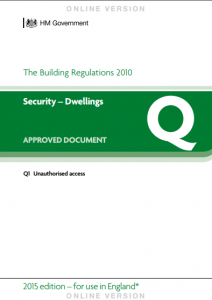 Building Regulations 2010 – Part Q – Security in Dwellings
The Building Regulations 2010 Document Q contains guidance on security in new dwellings and includes measures taken to avoid any unauthorised entrance to dwellings and flats within a building.
Changes to the Previous Version
The Approved Document Q: Security in Dwellings was published in 2015, and supports requirement Q1 of Schedule 1 to the Building Regulations 2010. Requirement Q1 only applies in relation to new dwellings and provides that reasonable provision must be made to resist unauthorised access to any dwelling plus any part of a building from which access can be gained to a flat within the building.
This approved document sets out reasonable standards for doors and windows to resist physical attack by a casual or opportunist burglar by being both sufficiently robust and fitted with appropriate hardware. This doesn't apply to work started before 1st October 2015, or work that is subject to a building notice, full plans application or initial notice submitted before that date provided work was started on site before 1st October 2016.
Read Part Q of the Building Regulations 2010
Brinard Joinery's team of specialists know the importance of complying to Building Regulations, as this will increase the safety of your property, no matter what construction work you are having.
If you have any questions about Part Q of the Building Regulations, please fill in our enquiry form below –
Enquire about this product