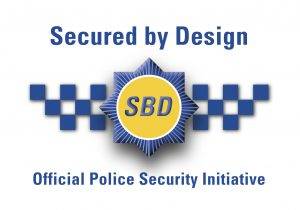 Secured by Design Products from Brinard Joinery
Secured by Design is a police organisation working alongside the Police Service in the UK, with the aim to achieve sustainable reductions in crime through design and other approaches that will reduce the demand on police forces and helps people live in a safer society.
Brinard Joinery is proud to be manufacture Secured by Design timber products, which showcases our commitment to providing only the best for all of our customers.
Secured by Design began working with industry bodies and manufacturers to tackle the variations in the quality of products being sold against the product that was originally tested. SBD now drives manufacturing markets (such as the timber industry), with test houses and certification bodies all created to meet the demand. Over a number of years, the organisation has raised awareness for the importance and benefits of security throughout the standards and construction industry.
Here are just a handful of their achievements to date –
More than one million homes have been built to SBD standards over the last 30 years
In 2017, crime reductions were up to 87% on new developments with 61% in major refurbishment projects in 2009.
Working with police forces, they reduced the number of false alarm calls to police from over 1 million in 1996 to 124,000 in 2017.
Since 1989, there has been a 60% overall reduction in property crime
SBD has also worked with iconic sites such as London's Olympic Stadium, Wembley Stadium, the Commonwealth Games Village and the National Stadium of Wales to ensure they meet the highest industry standards
Read the latest brochure for home design from Secure by Design
If you have any questions about any of our SBD products, please fill in our enquiry form below –
Enquire about this product