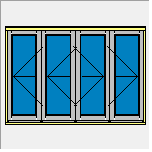 Sash windows have always had a certain elegance and appeal about them; sadly, they're often associated with the old fashioned, unsafe, and creaking sash windows seen on unmodernised Georgian and Edwardian homes.
Luckily, our stunning and modern sash windows in Nottingham have been designed with safety, style, and value for money in mind. Here at Brinard, we have decades of experience in creating gorgeous bespoke sash windows in Nottingham to fit with the look and feel of your home perfectly.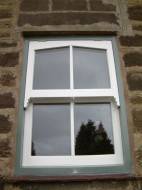 Versatile Options for Your Sash Windows
The versatile options we have available for your bespoke sash windows in Nottingham mean that whatever the character of your home, your new sash windows will look the part. Our material of choice for our bespoke sash windows is called Accoya. Accoya is simply sustainably grown timber which has undergone a process called acetylation.
Acetylation treatment has the benefit of making the timber indigestible to insects, and makes it incredibly resistant to moisture, damp, and moulds. Furthermore, your new Accoya sash windows will be looking their best for at least 50 years. This is largely down to the fact that Accoya wood is such a stable material; in fact, any coatings that you apply to your Accoya sash windows in Nottingham will last twice as long as those applied to conventional timbers.
Some of the options we have for our sash windows in Nottingham are as follows:
• Top hung mock sash windows
• Sliding sash windows
• Traditional box sliding sash windows
Contact Us to Design Your Sash Window in Nottingham
If you're interested in our service for sash windows in Nottingham, please don't hesitate to get in touch to discuss your requirements. We also offer a stunning range of bespoke joinery features such as doors, conservatories, kitchens, and garden rooms. You can take a look at some examples of our work in our gallery; great if you're looking for some ideas and inspiration!