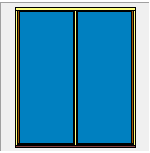 In these environmentally conscious times Accoya is the most advanced wood used in the construction of conservatories, windows and doors. It is a high performance, adaptable timber treated to the core by a process called acetylation which makes it the perfect choice for outdoor applications.
The Superior Properties and Benefits of Accoya
The benefits of Accoya as a building material are extensive and superior, ticking many boxes for sustainability, strength, and performance.
Traditionally, tropical hardwoods have been considered the superior timber for strength and durability but that mantle is now being challenged and beaten by Accoya. This timber only comes from sustainable fast growing softwood sources.
The naturally occurring Acetyl groups of oxygen, hydrogen and carbon, are within all wood species. The acetylation enhances the chemical composition which already exists making the finished Accoya product completely non toxic. Even the by-products are biodegradable, another big environmental "tick"!
Accoya windows, doors and conservatories are made from timber that is more consistent in structural integrity straight through the cross section and has a superior resistance to UV, insects and other micro organisms. This gives you peace of mind that your bespoke joinery will require minimum maintenance and will be long lasting.
Accoya is naturally insulating as the production process actually improves thermal insulation when compared to other treated wood.
Beautiful Accoya Windows, Doors and Conservatories from Brinard Joinery
Apart from the science of the timber, here at Brinard we make beautiful bespoke joinery products.
We have been manufacturing since 1982 and Accoya is our
wood of choice because it looks fantastic! We know viagra barata espana that when you are investing in your home or business you want crafted windows and doors that are cost effective and enhance your property. We also make staircases, conservatories, garden rooms and orangeries.
Got a question about bespoke joinery and any of our Accoya products then contact us today.