Winter is almost over so it's time to prepare your home for the Summer. Adding one of our bespoke wooden conservatories are a great way to get your home looking spectacular, creating a versatile extra living space and increasing the value of your property. Our wooden conservatories are tailor made to compliment your existing design and can be designed with a range of bespoke added features. All of our conservatories are unique are a fantastic addition to any home.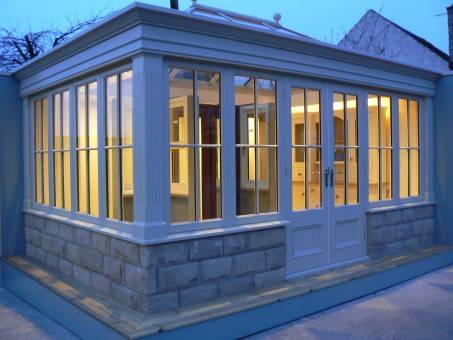 Wooden Conservatories for all Seasons
We all know the British weather can be somewhat unpredictable at the best of times and wooden conservatories are the perfect middle ground between your home and garden. Easy to heat up or air condition, you can enjoy your wooden conservatory whatever the weather. From warm Spring showers to Wintery downpours we can create a space that oozes elegance and you will love to spend time in. Working closely with our expert design team, we can help you through every step of the process to create your conservatory. From choosing materials and colours to adding in extra features such as sash windows we pride ourselves on delivering exactly what our customer want. Brinard use only trusted contractors to ensure the project is delivered on time, on budget and to the highest standards.
Contact Us About Wooden Conservatories
If you would like to know more about our wooden conservatories then why not visit our new Derbyshire showroom? Here you can see a small sample of past projects and other examples of our bespoke joinery. We have designed wooden conservatories in Chesterfield, Leicestershire, Matlock, Sheffield, Nottingham and across the UK. If you have any further queries then please do not hesitate to contact us and one of our friendly team will be more than happy to help with your enquiries.