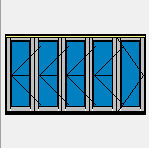 If you've been looking for wooden windows in Nottingham for your home, then you'll love our bespoke joinery service! Our expert craftsmen here at Brinard have decades of experience when it comes to designing and creating characterful and durable wooden windows in Nottingham and the surrounding areas; they can provide you with the perfect wooden windows for your home.
Wooden Windows in Nottingham by Brinard
Our material of choice when it comes to creating your wooden windows in Nottingham is called Accoya. This innovative and attractive material is made using timber from certified, sustainably managed forests and plantations; the wood then undergoes a process called acetylation.
Acetylation has the effect of making your wooden windows extremely durable, and virtually rot proof. As well as this, the timber also becomes indigestible to insects. These factors mean that your new wooden windows in Nottingham can help keep pests and damp out of your home, and you could be enjoying your beautiful wooden windows for over 50 years.
As we offer a bespoke service when creating wooden windows in Nottingham, we can ensure that your new windows are the perfect match for your home. Whether your home is a sleek and contemporary building, or features traditional styling or period features, we have bespoke options to complement.
Choosing new wooden windows in Nottingham can be daunting, but when you come to the experts at Brinard, you are in control!
Contact Us Today to Design and Create Your New Wooden Windows in Nottingham
If you're interested in the bespoke options we have available for your wooden windows in Nottingham, then please don't hesitate to get in touch with our team of experts. They're always on hand should you have any questions on the bespoke joinery that we offer, and can discuss your needs.
If you'd like, take a look at our gallery for ideas and inspiration. We also have a showroom based in the Midlands, where you can come and see some of our outstanding work in person.