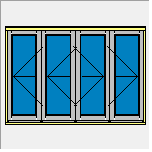 We specialise in making bespoke orangeries in Derby and Nottingham. An orangery is a light and spacious addition to your home bringing the internal living space and garden area together. Space in modern living is at a premium and adding one of these is a cost effective way of making a stylish improvement to the way you live in your home while adding value to your property.
Intended as a room to shelter citrus fruit trees during the winter months and originating from the renaissance in Italy, the orangery of the 21st century has become a sophisticated expansion of the home incorporating the characteristics of an extension and a conservatory. It is a space to relax, dine, and entertain family and friends, or even a quiet location to work, for those who work from home.
Orangeries Make a Sophisticated Addition to Your Home
Brinard produce beautiful modern bespoke orangeries for homes in Derby and Nottingham and the surrounding areas.
We know
that when you are ordering an orangery from us you are investing in your home and your quality of life, so it has to be right. When choosing Brinard you are choosing quality all around; high performance materials and bespoke joinery from craftsmen who care about all of the details to make your orangery a speciasl place for you and your family. Apart from the strength and durability you would expect from the materials and construction process we will also pay close attention to the detail right down to the quality of the fittings, finishing and glazing.
We pride ourselves on the choice on offer to you and we put you in the driving seat, after all you are the ones who will be spending time enjoying the finished product.
Contact Us About Bespoke Orangeries in Derby and Nottingham
We can advise you on all stages of the purchase of bespoke orangeries. With over 30 years acheter viagra experience we would be happy to help, please get in touch.