External Doors:
External doors in Matlock are easy to find thanks to the excellent standard of craftsmanship here at Brinard Joinery. Our external doors can be crafted on a bespoke basis to meet all of your needs, ensuring that you get the right set of external doors to suit your home or business property. Whether you're starting a completely new build or are just renovating an existing property, we can work with you to make sure you get the right set of external doors. You can see some fantastic examples of our bespoke joinery by visiting our brochure or click here to find out more about external doors. New exterior doors can benefit both your homes energy efficiency and aesthetic appearance, take a look at our blog to find out more!
Our years of experience in bespoke joinery spans more than thirty years. We are also members of the British Woodworking Foundation, so you can be sure that we our external doors are the best of the best. We have produced external doors in Matlock, but our work also takes us to the areas of Chesterfield, Derbyshire, Leicestershire, Nottingham, and Sheffield. You can click here to view our gallery of external doors, or click to get in touch!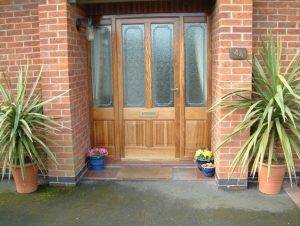 Leading suppliers of external doors for Matlock:
Crafting top-quality external doors is one of our specialities. We're very proud of our portfolio of successful clients, which includes a number of local authorities, heritage projects, listed building restorations and conservation projects. On top of that, we also have experience working with local authorities to create solutions that combine conservation requirements with an aesthetic that meets modern standards of insulation, glazing, ventilation, and treatment.
At Brinard we place the design of your exterior doors in your hands. This means that your decisions shine right through on the finished product. Our external doors offers a number of choices in regards to materials, profiles, fittings, configurations, style, finishing, and glazing. No matter which style you're looking for, whether it's Modern, Contemporary, Traditional, or Classical, we can craft the perfect set of external doors for you.
Get in touch to find out more:
If you would like to learn more about our external doors in Matlock then please get in touch with our expert team, or come and visit us in our showroom.