External Doors at Brinard
At Brinard, we have decades of experience when it comes to producing a range of superior quality external doors for most building types. With over 30 years' experience in creating bespoke joinery, we take pride in every project we complete. When you choose us to design and create your external timber doors, you will immediately see our commitment to quality, and superior strength and style of our doors.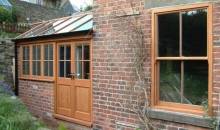 Our external wooden doors can give your home a fresh new look, making a great first impression with visitors. Furthermore, our exterior doors are crafted from Accoya wood, which is incredibly tough and long lasting; our Accoya wood doors carry a 50 year guarantee. The timber undergoes a special process which makes it watertight, and indigestible to insects; as well as looking good, our exterior doors can help your home stay free of pests and damp.
Find Out More on Our External Doors
As we offer a complete bespoke service, we can craft external doors to your meet your specifications and aesthetic needs. If your home already had a defined style we can craft your timber doors to be complementary to your existing features. This is also ideal for listed buildings which need to retain their original character and feel. Alternatively, your new exterior doors can help create a certain feel to your home. We'll work closely with you during the design phase to ensure your new doors are the perfect style.
Further to our doors' impressive style and character, they are also incredibly strong. This is a very important factor to consider when it comes to external home doors. They protect your home from the elements, but also help you to address security issues in the home. For your peace of mind, our doors can be fit with a some of the strongest and most reliable locking mechanisms on the market. We also offer a range of fittings and fixtures for your new doors.
Find Out More on Our External Doors
If you are interested in getting some superior quality external doors, please do give us a call. We're always happy to discuss your needs, and design doors which are perfect for your home.

External Wooden Doors in Derby
External Doors in Derbyshire
Exterior Doors in Matlock
External Timber Doors in Chesterfield
External Doors in Nottingham
External Doors in Leicestershire
Exterior Doors in Sheffield