Why Choose Brinard for your External Doors in Leicestershire?
For external doors in Leicestershire, there's no better option than Brinard Joinery. We've been crafting our own range of bespoke joinery for over 30 years, and this makes us perfectly placed to deliver you the highest quality joinery products and external doors in the Leicestershire area.
External doors are an important part of your home or business providing both essential protection from the elements, and a welcoming entrance to your building. Here at Brinard Joinery we believe that such an integral element of your building's appearance should be crafted bespoke to your tastes and requirements. We give you a wide range of options to choose from and then a member of the Brinard team will sit with you and develop a tailor made design of your external doors in Leicestershire taking into account your tastes and material preferences. If you have a specific style of home –whether this be cutting edge contemporary or a period property we can blend our exterior doors to match your existing features. Find out more about our external doors with our blog.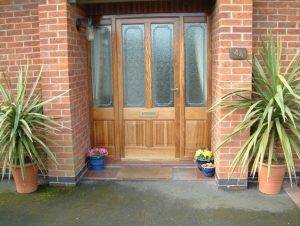 External Doors from Brinard Joinery:
Here at Brinard Joinery we offer an incredibly diverse and versatile joinery service, enabling us to complete projects for domestic, commercial and industry customers. We often supply our external doors throughout Leicestershire, and work with contractors on new build projects, businesses and individuals renovating. Whatever your bespoke joinery project Brinard Joinery are sure to be able to provide beautifully crafted pieces at competitive prices. If you're looking to revamp the entire exterior of your home, why not pair our external doors with some beautiful wooden windows, or a luxurious new conservatory.
Find out more today:
You can browse through some examples of our past work in our gallery, or come down to see some of our external doors at our showroom. If you would like to find out more about our external doors in Leicestershire then please get in touch with Brinard Joinery. Our expert team are on hand to answer any questions or queries you may have.