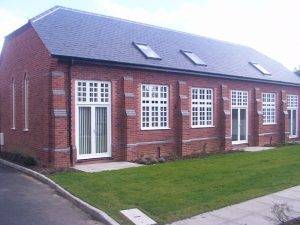 Choosing the Right External Doors in Nottingham
For external doors of exceptional quality, you need to talk to Brinard Joinery. We have more than thirty years of joinery experience providing wooden doors and windows to customers in Nottingham and all of the surrounding areas. We can work with you to equip you with the perfect set (or sets!) of wooden doors for whatever project you might be working on; whether that's a home renovation or a brand new business build.
Our bespoke joinery service also covers the following areas –
You can see some examples of all of these offerings in our brochure, or see our doors Gallery.
Creating quality external doors is one of our many well-practised talents here at Brinard Joinery. Our bespoke joinery has been used widely across a number of heritage and conservation projects in support of local authorities across the country. We specialise in matching quality wooden doors to the existing style of your house – whether this is period features or sleek modern designs.
Wooden Doors from Brinard Joinery
Brinard Joinery understands that your home is a very personal project and is usually a reflection of your own style and so we encourage you to put your own stamp on your doors. We give you a wide range of options concerning the design and will then tailor your external doors to your specifications. You can add glazing, pick your material, choose finishing touches and specify the size and style to give you your perfect doors.
Come and See Our Showroom
To have a closer look at our external doors, come and see us in our showroom. Here we showcase some examples of our bespoke joinery, so you can sample our exceptional standards of craftsmanship before you buy. We have produced external doors in Nottingham, but our work also takes us all over the UK.
Get in touch today to find out more about our products.