External Doors in Sheffield:
External doors from Sheffield's finest in the bespoke joinery business. We believe that you should have the ultimate choice in the features of your external doors in Sheffield, and so we make sure you're in the driving seat in developing your perfect design. Every step of our craft is committed to ensuring that your decisions shine through to the finished product. We aim to give you a full sense of satisfaction and pride with your external doors. Choose from a range of materials, styles and finishing touches! Take a look at our gallery to see some past examples.
For external doors in Sheffield, there's no better place. Our external doors are ideal during both the initial construction phase or as part of a home renovation or extension, for businesses or homes alike. We have an expansive selection of bespoke joinery products and you are given the same freedom with these as with our external doors. You can see some samples of our work by checking out our brochure, you can also visit our gallery of stunning external doors in Sheffield.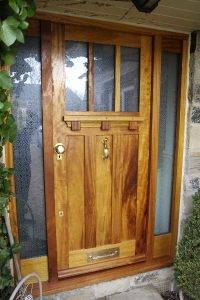 Brinard Joinery – Renowned Suppliers of External Doors in Sheffield:
When crafting external doors in Sheffield, experience is key. We have over 30 years experience in producing joinery products throughout in Sheffield and the rest of the UK and our pieces reflect this level of knowledge. Over this time we've also gained membership to the British woodworking foundation, proving our dedication to high quality joinery. Our external doors in Sheffield are often used by local authorities, heritage conservations and for work on building restorations. This is due to our experience in matching designs and woods to original features to give you an authentic look! So don't worry if you've got a period property, we can help you get the perfect external doors for your home.
Learn more today:
You can click here to view our gallery of external doors for Sheffield, or get in touch to find out more!