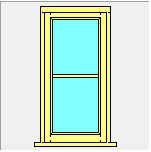 One of the most important considerations when choosing windows is ensuring that they provide security for your home or building. The recent introduction of the New Approved Document Q marks the first regulatory standards for preventing unauthorised access to homes and outlines safety requirements for all easily accessible windows and doors on new dwellings. This document sets out reasonable standards to give greater chance of the building resisting attack from burglars.
This new regulation looks to regulate poorly made windows and doors, which now must be made to a design that has been shown by tests to meet the security requirements of British Standards publication 24:2012. This includes standards on being sufficiently robust and fitted with appropriate hardware.
Here at Brinard we pride ourselves the high quality of our doors and work in line with New Approved Document Q to ensure that we supply an exceptional standard of windows and doors which works to reduce the risk of forced entry.
Bespoke Windows & Doors from Brinard Joinery:
We specialise in supplying bespoke joinery and can tailor your wooden windows to your needs and have a range of options on materials, profiles, configurations and glazing. We can also machine profiles which are unique to your project to match existing joinery, including matching windows on period properties.
If you would like to find out more about the New Approved Document Q, or would like a quote for our windows then please get in touch with a member of our team, we're on hand to help you.
(Information sourced from http://www.gov.uk/government/publications/security-in-dwellings-approved-document-q)