While uPVC and composite doors are an ever popular option for homes across the country, we at Brinard Joinery feel that there is a lot to be said for high quality wooden doors in Chesterfield. Though many people will remember the old fashioned wooden doors they may be used to – the kind that swell and shrink with the weather and end up creaking and looking a bit rough within a few years – modern advances in joinery have enabled us to produce stunning external wooden doors in Chesterfield which come with an impressive 50 year guarantee and none of these issues.
What's more, our timber doors make a relatively environmentally friendly option, as they are made from Accoya wood. This timber is sustainably grown, and is completely compostable at the end of the door's period of use; while our guarantees last 50 years, our external wooden doors in Chesterfield can last even longer than this with minimal maintenance.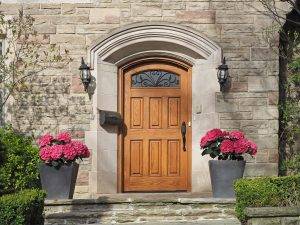 A Fully Bespoke Service for External Wooden Doors in Chesterfield
Creating stunning bespoke external wooden doors in Chesterfield is an area of speciality for our joiners. Often, your front door is the first thing any guests to your home will notice; when you choose a bespoke made external door crafted by us, you can make a great first impression.
With as much input as you would like to have, we will work with you during the design phase; this allows us to create external doors which are the perfect match for your home. Customisation can be added to your external wooden doors in Chesterfield in the form of:
• Wood finish
• Hardware
• Glazing
• Size
• Style (modern, traditional, contemporary etc)
Visit Our Showroom for examples of Our External Wooden Doors in Chesterfield
Visit our showroom in the Midlands to see examples of our quality work in person, or give us a call today for further information on our bespoke joinery.