When you think of a home, you will more than likely think about the garden, the walls, and of course, you will picture the windows and the doors. All these things and more combine to make a home, and they have the ability to make you feel safe, secure, and comfortable. Here at Brinard, we know that our customers are looking for high quality, practical, and gorgeously designed windows and doors for their homes. Our sash windows in Leicestershire provide the perfect balance between offering you stunning designs, fantastic security, and cost effectiveness.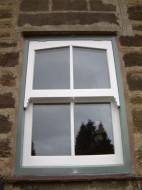 Our Bespoke Sash Windows in Leicestershire are Perfect for the Home
Sash windows are usually associated with period properties, and are often found on Edwardian and Georgian homes throughout the UK. Our sash windows in Leicestershire are the ideal alternative to standard uPVC glazing, injecting your home with character and style. When you choose us to create your bespoke sash windows in Leicestershire, we work with you to ensure your new features are perfect. We carry out every step of the design phase in house, using our wealth of experience and industry knowledge. From there, we will then manufacture your windows, and carry out an installation of your sash windows in Leicestershire.
Your new sash windows will be created using Accoya wood. This fantastic material is made from sustainable timber, which is treated to make it extremely tough and durable. It is also indigestible to insects and is highly resistant to damp. Furthermore, your new sash windows will be guaranteed to last at least 50 years, making them a very cost effective option.
Call Us to Discuss Your New Sash Windows in Leicestershire
You are in the very best hands when you choose us to design and install your sash windows in Leicestershire. If you have any questions on the products we design and create, please don't hesitate to give us a call or visit our showroom.