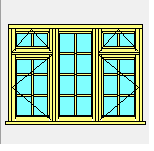 Are your sash windows in Derbyshire draughty? Or maybe they're looking quite worn in their old age? Whatever your situation, at Brinard Joinery we have the perfect solution, our stunning bespoke sash windows in Derbyshire. Not only can our sash windows instantly improve the energy efficiency of your home but they can also improve the internal and external aesthetics of your property, increasing its value! With over thirty years' experience providing bespoke joinery products such as sash windows to customers in Derbyshire and surrounding areas, we can easily tailor sash windows to suit your specific needs and requirements, no matter what your style!
Style & So Much More with Sash Windows in Derbyshire
Associated with Georgian and Edwardian properties, sash windows are an excellent way of adding elegance and a period grandeur to any home, all whilst still benefiting from modern day comforts. At Brinard Joinery, we specialise in manufacturing sash windows in Derbyshire in a choice of three styles including:
Top Hung Mock Sash Windows
Sliding Sash Windows
Traditional Box Sliding Sash Windows
Each of our sash windows in Derbyshire are crafted using only the finest timber which delivers exceptional strength, versatility and a natural long lasting beauty which can withstand even the great British weather! We also take great pride in our sash windows boasting a high level of insulation which is designed to make your home as energy efficient as possible. This is incredibly important as today, roughly 25% of most heating bills could be seeping out of poorly fitted windows or old windows!
Get in Touch for Sash Windows in Derbyshire
If you're looking to add value to your home, or you simply need to replace rotting or worn sash windows, look no further. At Brinard we work with customers every step of the way, helping them to get the perfect sash windows in Derbyshire! To find out more, please do not hesitate to get in touch. You are also more than welcome to visit us at our showroom based in Alfreton to speak to us in person and to view examples of our sash windows.