External doors are an important feature of all homes. They are one of the first things any visitors to your home will see, creating those all-important first impressions; they also act as a vital security feature, keeping you and your family safe and secure. Exterior doors can seem to last a long time, but when the time comes to find a replacement, you need to be sure you are making the right choice for your home. Here at Brinard, we can provide you with stunning external doors, which are durable as well as attractive.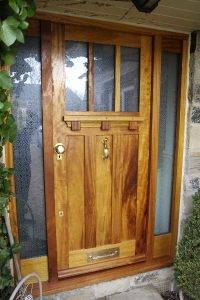 The Benefits of Brinard External Doors
For decades, we have been providing high quality, bespoke external doors for homes and other premises across the Midlands. We are proud of the quality of our doors, and with versatile options available, we can craft the perfect external door for your home.
Well designed external doors can really change the way your home looks. They can be made using natural colours and textures for a more subtle look. Alternatively, there is a choice of richly coloured coatings which we can apply to your new external door. This flexibility in colour allows you to refine the exterior look of your home. Furthermore, we offer a range of fittings, fixtures, and locking mechanisms, depending on your preferences.
Our Accoya external wooden doors are designed to withstand the worst of the British weather for an incredible 50 years, and are made using sustainable timber. We also offer Eco Secure windows and external doors, which carry an energy efficiency rating of A. This option is also available in a range of timbers and finishes.
Get in Touch for a Free Quote on Your New External Doors
For more information on our external doors, or for a pricing quote, please don't hesitate to get in touch. If you are looking for inspiration, why not browse our gallery, where you will find some of our outstanding work.