Here at Brinard Joinery, we were bitten by the bespoke joinery bug decades ago, and specialise in creating stunning bespoke joinery options for all kinds of settings in the UK! Perhaps you have spotted some unique features in your neighbour's home or garden, and your interest in bespoke joinery has been piqued, and you are wondering whether it is the right service for you.
Once you have had a look at some examples of our work, we are sure you'll see that there are clear benefits to selecting bespoke joinery options rather than off the shelf ones. Furthermore, once your bespoke joinery installation is complete, you'll be wondering what you can work on next!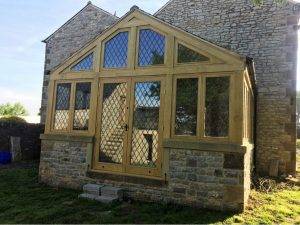 Bespoke Joinery – 5 Reasons to go Bespoke!
Made to Measure: Having your new wooden features designed and manufactured on a made to measure basis makes a huge difference to your home improvement projects. When you commission us to create something for you, you can be assured that it will be made to the exact measurements you need. This can help lengthen the lifespan of your joinery, by reducing the stresses put on the structure through everyday life.
Made to Match: We can design and make a complete new kitchen suite to match the kitchen you already have, which is ideal if you're having a complete refit, but we can also go one better. If you are not looking for a completely redesigned kitchen, we can create individual items like cabinets and drawers to match your current kitchen suite. This is a common option when you're looking to refresh and replace high traffic areas which may show wear and tear before less frequently used items and areas of the kitchen.
Unique: This might seem to contradict the point we have just made about refitting kitchens, but it's a very important one; you could argue that it's the most important of all! This is the aspect of our bespoke service that makes all the difference between having something designed perfectly in line with your creative vision, or picking the closest match from a range of pre-made options. This is the best way to make sure your new bespoke joinery are of the highest quality, with perfect style and fit.
Fashion AND Function: That's right – when you go for bespoke joinery, there's no need to compromise. All you need is a vision and we can make sure your furniture both looks good and feels good.
Quality: When you choose bespoke joinery from Brinard, you are choosing a company which will give your project the attention to detail it deserves. We pay utmost care and attention when designing, making, finishing, and installing your joinery; this ensures every single piece you commission from us is consistently made to match your preferred look, without compromising on quality at all.
Contact Us Today For Bespoke Joinery
Accoya is our material of choice, and it is used to complete the majority of our projects. This timber is of unbeatable quality and longevity, and most items come with a 50 year guarantee.
If you're interested in bespoke joinery whether it be wooden windows, external doors, staircases, bespoke kitchens or even conservatories, please do not hesitate to get in touch!