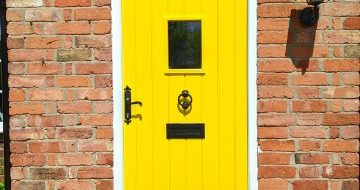 Back in early February, we looked at ironmongery, one of the unsung heroes of the external wooden door. Now we thought it was time to look at another. That of course being colour.
Similar to ironmongery, when you think of your wooden door, you probably will not think of colour. However, following recent trends, applying a splash of colour to your door is becoming all the more commonplace. From sleek stylish colourings to more unconventional patterns to non-traditional forms of painting; applying colour to your door is a fantastic way to spice up your door.
So let's take a look at some of the reasons you might consider applying a splash of colour to your external wooden door.
Pure Style and Aesthetic
We start our list with potentially the most obvious reason. Giving your door an element of colour is an incredibly easy way to make your door seem more visually appealing. Beyond the fact that a coloured door will look more interesting than a simple plain one; you can experiment with different colours until the colour fits in perfectly with your surrounding décor.
The Paint Can Waterproof Your Door
The fact that your front doors are external means they are exposed to elements therefore meaning the door could potentially be susceptible to all manners of potential issues. These include dry rot and various sorts of water damage.
You might be surprised, or indeed pleased, to know that applying the correct painting can help to waterproof your door. Usually when painting any wood, the sufficient waterproofing system is applied beforehand. Accompanying this is the fact, the paint acts as an additional layer of protection against the elements.
Protects Against UV Rays
Similar to protecting against the rain, you will want to protect your door against the strong power of the sun and therefore the UV Rays.
Prolonged and excessive exposure to ultraviolet rays will lead to a catastrophic decrease in the quality of your wood. Painting your door with the right type of coating will act as an effective UV-resistant barrier which will protect and preserve your door.
Adding Value To Your Home
At Brinard Joinery, we have frequently sung the praises of how different joinery services can help to increase the value of your home. Whether you are looking at quality bespoke joinery in Derby or further afield, customisation or making your joinery unique is a great way to add value to the product and therefore your home on the whole.
Adding colour to your exterior door is a quick and effective way of adding value to your home.
Keeping Your Interior Cooler
While you might be very focused on your exterior, painting your external door can actually help to keep your interior cooler. In just a few short weeks, many of us will attempt to keep our homes cooler as the temperatures begin to sore.
Wood in general is a cooler alternative to other commonly used material in a typical household. But adding a light coloured, high gloss paint can keep your home much cooler. Doing so can actually save up to 30% on your current energy bill.
Covering Chips and Cracks
Any wooden door owner knows all too well that simple cracks and chips can appear all too easy. Getting the inconvenience taken care of can produce all manner of problems. However, painting over the chips and cracks can actually be a sufficient solution.
Not only does painting over the imperfection usually do a better job of covering it up; the protection offered by paint is normally more effective and lasts longer.
Accoya Doors
Now you have established that you want paint to apply colour to your external wooden door; you might want to consider what that door will be made of.
At Brinard Joinery, we feel like we can not mention wooden doors without showcasing the excellent quality of our fabulous Accoya doors. Accoya wood lasts significantly longer than other types of wood, the material looks great and it is more environmentally friendly.
So if you are looking at purchasing a new external wooden door, why not make it an Accoya door?