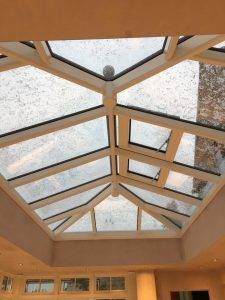 Accoya is truly one of our favourite materials to work with when it comes to bespoke joinery. We have created some stunning designs over the years. With Accoya, you are getting a material that is far better than other traditional and commonly used woods while still being functional and stylish enough to meet your exact requirements. We have over 10 years of experience when it comes to using Accoya in our bespoke joinery, making us the number one supplier of Accoya windows and doors in Sheffield.
What is Accoya?
If you are unfamiliar with Accoya, it's commonly known as the world's leading long life sustainable wood. It comes from radiata pine trees in sustainably managed forests. Then, it undergoes a non-toxic process in the Netherlands called acetylation. This process involves treating and modifying the cell structure of the wood by introducing acetyl, making it more stable, durable and resistant to decay, insects and fungi. Acetyl is also measurable and all Accoya wood has to meet the target before being used.
Other Benefits
Not only is Accoya wood stable, durable and resistant to decay, insects and fungi, it offers more fantastic benefits which contributes to its worldwide popularity. These include:
Long-lasting – Accoya is known for its exceptional durability due to an impressive life expectancy of 50 years, even in harsh outdoor environments, once it's properly maintained.
Sustainable – It comes from sustainably managed forests and it's certified by organisations such as the Forest Stewardship Council (FSC). By lasting longer, it reduces the need for early replacement and protecting forest resources. Accoya has a low carbon footprint and is 100% recyclable.
Versatile – Suitable and widely used for a various range of applications including doors, windows, facades, decking, cladding and even marine appliances as it doesn't suffer from shrinkage, warping or swelling when damp.
Low-maintenance – Often wood needs regular maintenance, however, Accoya wood requires less maintenance. It holds on to paint and stains exceptionally well, resulting in longer-lasting finishes and reduced re-painting frequency.
Accoya Doors and Windows From Brinard Joinery
Windows and doors from Brinard Joinery are the perfect choices, whether you are building from scratch or renovating a property. As bespoke joinery specialists, we have supplied eco-secure Accoya windows and doors in Sheffield and the surrounding areas for many years now. The only limit is your imagination and our design team will work closely with you to ensure your vision becomes a reality. Accoya is the most versatile wood available on the market today and our team of craftsmen know exactly how to get the best from it.
Visit our Showroom or Contact Us
For made-to-measure Accoya windows and doors in Sheffield, visit our showroom in Alfreton, Derbyshire to see our craftsmanship with your own eyes and feel the quality of our artisanally crafted Accoya window and doors. Alternatively, you can contact us by calling 0779 124 8007 or make an online enquiry to receive a free quote. If you have any further questions about Accoya windows and doors, we will also be happy to answer them for you.