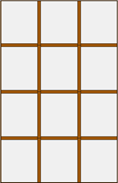 When it comes to choosing your external doors in Sheffield, it can be a stressful and time-consuming job, you need something which is cost-effective and durable but also something which is stylish to compliment your home. At Brinard Joinery, we understand this completely which is why we pride ourselves on supplying bespoke, high-quality external doors in Sheffield which are crafted from Accoya wood. With over 30 years' experience in the industry, a team of expert craftsman, the best materials and the latest technology, by choosing Brinard Joinery for your external doors, all you need to worry about is helping us to develop a bespoke design for your home!
Our Accoya External Doors in Sheffield
At Brinard Joinery, we understand how important quality external doors in Sheffield are, not only for the security of your home but also for its external and internal aesthetic. For this reason, we specialise in manufacturing beautiful bespoke Accoya doors; Accoya wood is quickly gaining popularity due to it being a naturally beautiful wood which has class one durability and which is sourced from FSC and PEFC certified timber. Currently, we offer a range of Accoya door styles which can be tailored to meet your needs and style. Some of our external door styles include:
Glazed Doors – These doors are extremely practical as well as being perfect for allowing natural light into your home whilst preventing heat loss.
Panelled Doors – This door is probably our most popular external door in Sheffield due to it being attractive, durable and very secure. The door can be tailored to add a truly personal touch to your home which you won't find anywhere else!
Contact Us Today for The Best External Doors in Sheffield
If you are interested in purchasing new, bespoke external doors in Sheffield, please do not hesitate to contact us today! Our friendly and dedicated team will be more than happy to provide you with a quote and advise about which doors would best suit your requirements. Alternatively, you can also visit our showroom for some inspiration!