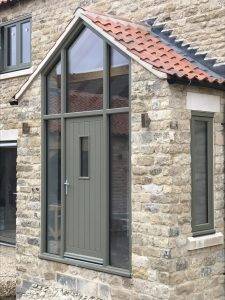 Here at Brinard, we are the masters of bespoke joinery and one of our specialities is beautiful external wooden doors. Over the years we have created some truly stunning designs and we are fast becoming the number one choice for external wooden doors. We have decades of experience in the industry and thousands of satisfied customers across the region in both the commercial and domestic sector. We relish the challenge of a new design project and we will work very closely with you during the planning stage to ensure your specifications are met in full.
Use the Finest Timber for your External Doors
Bespoke joinery is the perfect way to renovate your home and also a brilliant long term investment. We also specialise in fitting Accoya doors which is fast becoming one of our most popular brands for timber products. Made using the acetylation process, Accoya is the world's leading high technology wood and is an incredibly durable material that is guaranteed to last at least 50 years. It's also indigestible to insects and microorganisms so Accoya external doors are virtually rot-proof along with standing up to the elements far better than traditional materials.
Some homeowners may assume using timber for your doors will require a high level of maintenance and upkeep to maintain their condition and not rot. Whereas with Accoya doors and windows, you will be choosing a solid wood that doesn't require much maintenance at all.
Here are some other benefits of specifying Accoya for your external doors –
Dimensional Stability
Ideal For Coating
Excellent Machinability
Sustainability That Endures
Beautiful & Bespoke
Your Number One Choice For External Wooden Doors
Whether you want Accoya doors or traditional oak doors, Brinard Joinery is the number one choice for external wooden doors in Derbyshire. You are more than welcome to come and visit our showroom at any time to see some examples for yourself or alternatively you can browse our gallery here. If you would like to know more about our external wooden doors in Derbyshire or any of our other products, please feel free to contact us today for more information.