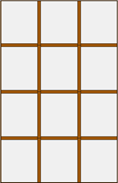 As the nights get longer and the mornings get chillier, many homeowners in Leicestershire are starting to ask themselves the same question, is it time to put the heating on? Although many of us hold out for as long as possible, soon the inevitable will happen and homes across Leicestershire will start to see an increase in their heating bills as they try to keep the cold out. At Brinard Joinery however, we can decrease your heating bills with our bespoke wooden external doors in Leicestershire! Wood is a fantastic natural insulator which can instantly reduce heat loss in your home. At Brinard, we are the regions leading supplier of bespoke joinery and can supply you with external doors in Leicestershire that truly suit your property.
Why Choose External Doors in Leicestershire from Brinard Joinery?
External doors from Brinard Joinery are a cost effective investment which will benefit you for many, many years! Not only will our doors help to reduce heat loss in your property this autumn but they are also extremely durable and rarely need replacing. Our Accoya doors in particular guarantee to last an impressive 50 years!
We pride ourselves on ensuring that each of our external doors in Leicestershire are also crafted from only sustainably sourced wood.
In comparison to UPVC doors, the weight and thickness of our doors also provides a higher level of security and effectively blocks out external noises.
Finally, with our bespoke service you can create external doors that truly reflect the character of your property. Whether you require a modern, contemporary, traditional, or classic style, we guarantee to provide you with external doors in Leicestershire that you will love!
Find Out More About Our External Doors in Leicestershire:
Here at Brinard Joinery, we have built a reputation on supplying beautifully crafted external doors in Leicestershire and surrounding areas. So, to reduce your energy bills this autumn whilst also creating a beautiful entrance to your home, look no further than Brinard! If you would like to view examples of our external doors in Leicestershire then you are more than welcome to visit us at our showroom in Alfreton, Derbyshire. Alternatively, please feel free to contact us directly for more information.