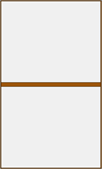 Accoya wood is an incredibly durable and versatile material that we love to work with here at Brinard Joinery due to the incredible range of advantages it has over traditional alternatives. Accoya wood is manufactured via the acetylation process which results in outstanding Class 1 durability guaranteed to last at least half a century above water. Accoya wood surpasses even teak when it comes to longevity which has led to consumers all over the UK choosing the material. At Brinard, we specialise in creating beautiful Accoya windows and doors for both the domestic and commercial market.

Choose Accoya Wood With Brinard Joinery
We are specialists when it comes to bespoke joinery projects using Accoya wood and love working with the material due to the versatility of the material. Accoya is not only durable, but looks fantastic at the same time as the acetylation process doesn't take any of the natural beauty away from the original wood. The improved stability of the wood also means coatings can last up to twice as long and are easier to apply with minimal sanding required. This also reduces shrinkage by up to 75% meaning Accoya doors and windows will open easily all year round without any maintenance or treatment necessary. There is also a 70 year minimum service life stated by TRADA to guarantee your Accoya windows and doors.
Find Out More About Accoya Wood Today
With hundreds of successful projects completed all over the UK there is nobody more experienced or skilled when it comes to bespoke joinery. We put you in control of the design and ensure you exact specifications are met in full. We can give you a totally free, no obligation quote for your project today so please feel free to contact us for a chat with our design team or find out more about Accoya wood.