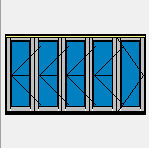 Choosing new bespoke timber windows in Nottingham for your home can be daunting, but our expert service here at Brinard makes things simple. For decades, our master craftsmen have been designing and creating stunning timber windows in Nottingham for a range of properties. Our bespoke timber windows offer the perfect solution if you're looking to make your mark on your property with tailored designs.
Accoya Wood for Timber Windows in Nottingham
Our experts will work with you through the design process of your timber windows in Nottingham, to ensure that you're completely thrilled with your new timber windows. This means that we can create timber windows which match your home's current aesthetics perfectly, or allow you to change things up while being in complete control.
When it comes to manufacturing bespoke timber windows in Nottingham and the surrounding areas, our material of choice is a material called Accoya wood. This incredibly tough material is perfect for timber windows, doors, and other bespoke features like our conservatories and orangeries.
Accoya wood windows and doors are made by treating sustainable pine timber to transform it at a cellular level, which gives it plenty of fantastic benefits. The treatment process makes the wood indigestible to insects, and extremely resistant to moulds, rot, and moisture.
Furthermore, as Accoya forms a stable base, any coatings you apply to your timber windows in Nottingham could last twice as long as when applied to conventional timbers. Our Accoya windows are guaranteed to last at least 50 years, and need minimal maintenance throughout their life.
We Can Design Your Bespoke Timber Windows in Nottingham
If you'd like to know more about the timber windows in Nottingham which we provide, or any of our other products, please don't hesitate to get in touch. You can find plenty of ideas and inspiration in our gallery and joinery guides, and if you're local to us, feel free to visit us at our showroom in the Midlands.