Are you looking for new sash windows in Nottingham? If so, you've come to the right place! At Brinard Joinery, we have been manufacturing sash windows for over 30 years and in this time, we have built a reputation on supplying beautiful bespoke sash windows which instantly transform both the interior and the exterior of any property. With a wide range of styles available, we can tailor our sash windows to complement the age and style of any property.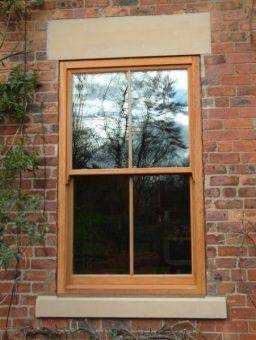 Why Choose Sash Windows in Nottingham from Brinard Joinery?
Here at Brinard Joinery, we have always placed a great emphasis on delivering quality, choice and excellent craftsmanship. We do however understand that choosing new windows can be a difficult and time consuming decision! To help make it easier, we have put together a list of some of the key reasons for why you should choose Brinard for your sash windows in Nottingham:
Our sash windows in Nottingham are made from high quality timber which is unbeatable in both strength and versatility and which guarantees longevity. Put simply, they can withstand adverse weather conditions for many, many years.
Our sash windows also guarantee to keep the warmth in and the cold out, lowering your fuel bills. This is becoming increasingly important for many home owners as the cooler autumn months approach!
All of our sash windows can also open vertically or horizontally rather than simply outwards. Every style also features child locks for an extra sense of security.
Finally, unlike many of our competitors, we offer a truly bespoke service by providing a huge range of choice in terms of materials, profiles, fittings, style, finishing, and glazing. We pride ourselves on tailoring sash windows in Nottingham to suit any style home, whether it be modern, contemporary or traditional.
Find Out More About Our Sash Windows in Nottingham
If you would like to view our range of bespoke sash windows in Nottingham, you are more than welcome to visit us at our showroom based in Alfreton, Derbyshire. Alternatively, you can also contact us directly for more information.