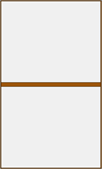 Bespoke joinery by Brinard can really add a unique dimension to your home, helping you to achieve the character you're looking for. For over 30 years we've been working closely with our customers; designing and handcrafting bespoke joinery in exactly the style they need.
Our material of choice for certain fixtures is called Accoya wood. Accoya wood is the perfect material for bespoke joinery solutions in both commercial and domestic properties. Countless people from all over the UK have been enjoying its benefits!
Accoya Wood – The Perfect Material for Bespoke Joinery
Accoya wood is the world's leading technology in terms of bespoke joinery materials. We specialise in crafting beautiful Accoya wood windows and doors for properties of all kinds, including listed and heritage buildings.
Our bespoke joinery features in Accoya wood undergo a chemical process called acetylation. This process alters the structure of chemical compounds in the wood, making them incredibly durable. In fact, our bespoke joinery in Accoya wood is guaranteed to last an astonishing 50 years at least!
The acetylation process does not affect the natural good looks of the wood, but the improved surface can mean coatings last twice as long. This means you can enjoy gorgeous natural wood for years, with minimal effort and maintenance.
Accoya wood will not warp or rot, and is indigestible to insects. This can help you to keep damp and pests out of your home. As well as this, swelling and shrinking are reduced by up to 75%. Therefore, your bespoke windows and doors will not stick, and will retain perfect function for the lifetime of the feature.
Contact Us for Stunning Bespoke Joinery in Accoya Wood
If you're interested in investing in bespoke joinery features in Accoya wood for your home, please don't hesitate to call us. You can find more information on Accoya wood on our FAQS Page, and you can take a look at our gallery to see some of our outstanding previous work!