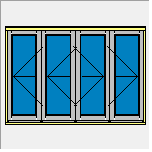 At Brinard Joinery we specialise in manufacturing beautiful, bespoke sash windows in Derby, and with thirty years' experience in the industry, we can guarantee excellence from both our products and our service. Usually associated with the Victorian and Georgian eras, sash windows have a timeless, vintage charm which has grown in popularity in recent years as vintage styles have become fashionable. Here at Brinard Joinery, we love sash windows and pride ourselves on offering beautiful sash windows in Derby which combine an elegant style with modern comforts. We regularly create sash windows for homes and commercial properties in Derby and with such a wide range of styles available, we can tailor our sash windows to compliment the age and style of any property.
Why Choose Brinard Joinery for Sash Windows in Derby?
Our sash Windows in Derby are both durable and attractive, meaning that you get quality windows which will retain their stunning appearance for longer, creating a great first impression for anyone visiting your home! Although style is an incredibly important factor for many property owners, at Brinard Joinery we also understand that when investing in new sash windows in Derby, a key priority is functionality. For this reason, each one of our sash windows in Derby is designed to be highly energy efficient to reduce your energy bills, and to keep your property comfortable, no matter what the season! Our sash windows also offer excellent security keeping your home and those closest to you safe and secure.
Contact Us Today for Your Sash Windows in Derby
At Brinard Joinery, we place an emphasis on delivering choice and exceptional workmanship, so you can rest assured that when you purchase bespoke sash windows in Derby from us, you will be receiving a high quality product. So, if you are interested in updating your property with sash windows, then why not give us a call today? A member of our friendly and dedicated team will be more than happy to help with any questions you may have! We also have an impressive showroom if you'd like to pop in for a visit!