When we have new guests to our home, what better feeling is there than being able to show them in through a grand entranceway? We don't mean you need to completely rebuild the front of your house, or even move house. But how about creating a one of a kind entrance to your home?
Recreate your entrance
The entrance to our homes is where new guests create their first impressions, and while we always hear the phrase "It doesn't matter what other people think", we all know that we take pride in what others think of our homes.
The entrance to any home can be spruced up with just a touch of bespoke joinery, so why not make the change to yours?
Whether you are looking to invest in a grand timber-framed porch, or a simple elegant archway, these small changes can have a huge impact on the look of your house.
A timber-framed porch has a multitude of great benefits, aside from looking great. The space allows us to have a second barrier to the outside elements, which is great in the winter, you can open and close one door at a time, minimising the heat loss in your home. Another great benefit in winter is that there is somewhere inside and dry where you can remove muddy shoes and wet coats before entering the main house. If security is high on your list of concerns, investing in a porch is another great buffer before your main house, not only does it create a second door to get through, it also allows you to open your front door and see who is outside, before exposing your home to them.
No matter how many benefits there are to a porch, we know they aren't for everyone, and similarly, they may not suit every home. An elegant archway might be the answer for you. While a full porch can sometimes feel like it takes over the front of your house, a simple archway can create the same grand entrance, without all the added extras.
The wonderful benefit of bespoke joinery means that whether you choose the porch or archway, it can be both designed and built to your exact style and specifications. Allowing you to make it as much of a feature as you like, and allowing you to add all the functionality you need, all whilst giving yourself a one of a kind entrance.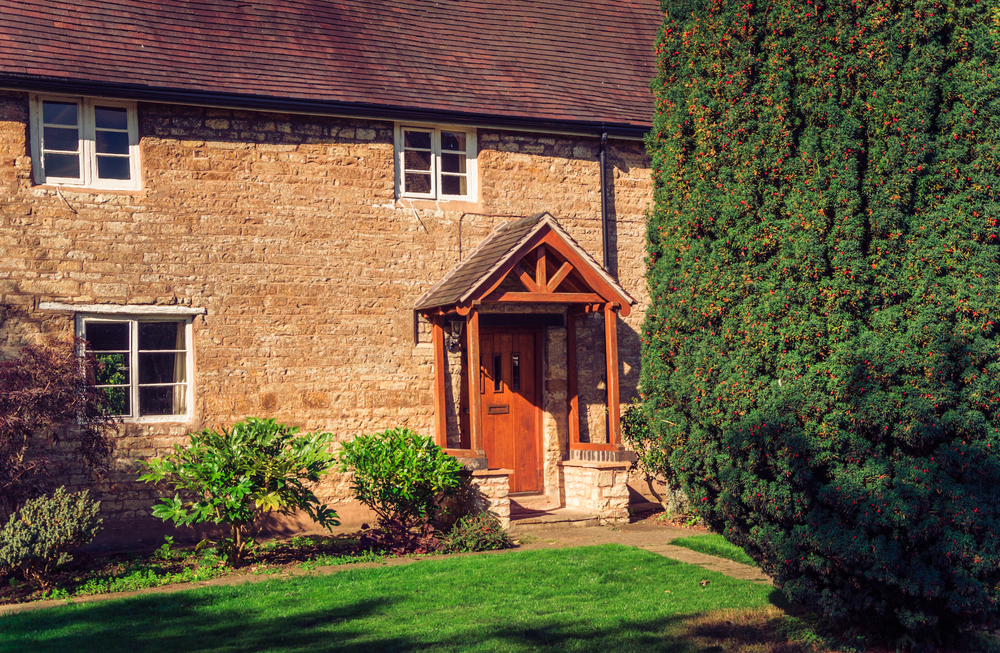 What about your door?
After you have passed through your porch or archway, or even if you decide neither of these is right for your home, investing in a bespoke front door can also completely change the look of your entrance.
Here at Brinard Joinery, we create bespoke wooden front doors specifically for you and your home. From using the very best in Accoya wood to ensure the best lifespan and sustainability of our doors, to using the highest quality paints and stains from Teknos and even ensuring that our doors meet the requirements laid out by the secure by design initiative. Head over to our bespoke doors for some design ideas for you home.
Windows to match?
While we are considering changes to the front of our house, why not opt for matching windows too?
Our bespoke Accoya wood windows are A-rated to ensure that not only are they made from sustainable sources, they are also economical once they are installed in your home. As they are bespoke we can build them to match all the other features at the front of our house, whether that is a completely new porch, or a simple front door.
Inside the home
The introduction doesn't end at the external entrance, expand the bespoke work throughout your home leaving your guests envious of your one of a kind pieces. From sideboards in your hallway, to bespoke coffee tables in the lounge. The joys of bespoke pieces are that you won't find them in the homes of your companions. Take a look at our recent blog on "Making a House a Home with Bespoke Furniture and Joinery" for ideas for bespoke projects within your home.
For more information or to discuss a bespoke project with us, please contact a member of our expert team today who will be more than happy to help. Take a look at our latest news section for a wealth of ideas and information for your bespoke project and the maintenance of you finish pieces.