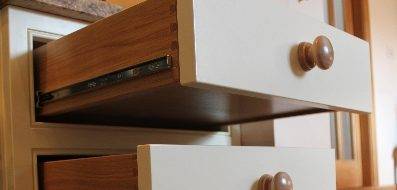 At Brinard Joinery we believe that bespoke joinery reflects much more than just showcasing a personalised item, it can instantly set the tone and personality of a home. So, whether you've always dreamed of transforming your home with a piece of contemporary joinery, or you're looking for something more traditional, we can create bespoke items which are beautifully designed and individual to your home. From bespoke country kitchens and elegant staircases, to doors and windows, we can handcraft interior and exterior features which add warmth and a welcoming feeling to your home. Our dedication and passion is reflected in our long term membership to the British Woodworking Federation and through this, you can rest assured that you will be choosing an experienced and highly skilled provider of bespoke joinery, no matter what your needs and requirements may be.
Expertly Crafted Bespoke Joinery
Established in 1982, we have been handcrafting bespoke joinery products for over 35 years now. During this time, we have become renowned for our expert craftsmanship, with every product being built using only the highest quality materials as well as requiring the lowest levels of maintenance in the long term. Since the very beginning, our aim has been to provide you with the perfect personal touch for your home or property. So, whether you're in need of domestic bespoke joinery or commercial, we can provide you with a truly unique product, from quaint conservatories and orangeries, to bespoke windows including sash windows, timber windows, accoya windows and doors, and much more. For more information about our bespoke joinery options, view our bespoke joinery guide.
Contact us for beautiful bespoke joinery
We offer our services to contractors, house builders, self-builds and national and independent builders merchants. So, no matter where you are based, if you're considering investing in bespoke joinery, choose Brinard Joinery today and let us help you to make your home or property your own. To find out more about our products and services, take a look at our extensive gallery, you can also visit our purpose built showroom in Derbyshire or you can contact us directly for more information.